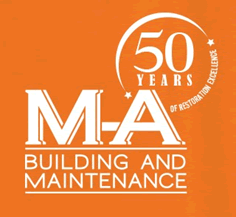 Founded in 1968, M-A Building and Maintenance Co. has been an integral part of restoring Northeast Ohio for more than 50 years.  Our focus on providing quality repairs to extend the life of structures has made us an industry leader.  Our vast experience in the industry allows us the ability to find solutions to even the toughest of building problems.  Our capabilities then allow us to provide our customers with the most effective repair for their property.
M-A Building was established in 1969 as a construction supply company.  It transitioned, shortly after, into a building restoration and repair company. For over 50 years, M-A has worked in the Cleveland/Akron area to repair and maintain many of Northeast Ohio's most prominent buildings. It has taken part in installing key statues and landmarks at Progressive Field (Indians) and repairs at Quicken Loans Arena (Cavaliers) and First Energy stadium, home of the Cleveland Browns. M-A has built a strong reputation as a company that provides quality work at a fair price. Our long list of repeat customers is a testament to that.  We have an extensive group of experienced and skilled tradesmen to conquer the toughest of building restorations.  Whether you are maintaining your structure or returning it to its original beauty, M-A is here to provide all aspects of your project.
Safety is always first and foremost at M-A Building.  We want every employee for M-A and our customers to return home in the same condition in which they arrived.  Our safety staff works closely with a Safety Consultant to ensure that we comply with all OSHA standards. We strive on every project to do quality work that is on schedule, but never at the sacrifice of safety.
Our staff has extensive experience in restoration and construction and our field crew consists of multiple employees that have been with the company for more than 25 years. When you hire M-A to complete your project, you are hiring a wealth of construction knowledge.
Member in